Best Virtual Employee Recognition Software to Use in 2023
According to the United States Census, 17.9% of Americans work from home as of 2021, a marked increase from 5.7% in 2019. Many companies shifted to virtual employment and a work-from-home environment during the early 2020s to compensate for pandemic restrictions and allow some freedom to their employees.
While the workplace may be trending toward virtual, employee recognition needs to remain tangible. Employee recognition is crucial to overall company culture and can contribute toward employee happiness. Studies have shown that appreciated employees stick with the company longer, and appreciated employees turn into appreciative leaders.
Let's look at ways to appreciate your virtual employees using specialized software and how employee recognition can benefit your business.
What Is Virtual Employee Recognition Software?
Virtual employee recognition software integrates with employee communication platforms like Slack. This software allows for easy recognition of employee achievements all in one location.
Virtual employment takes away the shared physical space of the office, making a shared virtual space all the more vital. Recognizing your employees in a shared space shows you value their contributions and bolsters your virtual workplace culture.
Virtual employee recognition software allows you to integrate employee recognition into your daily routine thanks to intuitive programs and scheduled reminders. Some recognition software uses point systems to show tangible praise, while others allow for custom messages for employees who went above and beyond.
Why Is Employee Recognition Important?
Employee recognition can help improve overall employee retention. It can also enhance employees' home lives and boost their overall mood and workplace satisfaction. A recognized employee feels valued by their company and, in turn, contributes to a positive work environment. Conversely, employees are more likely to burn out or feel unfulfilled without employee recognition. Recognizing your employees can offset the recent quitting trend and cultivate a driven, productive virtual workplace environment.
How to Do Employee Recognition Virtually
Virtual employee recognition takes some advanced planning but is well worth the results. By using virtual employee recognition software, you can create both personal and public recognition for a job well done. In addition, by encouraging your virtual team in a shared online social space, you cultivate a positive workplace and help grow a supportive team environment.
Virtual recognition should feel tangible; just because you are validating your employees online does not make putting the time and effort into recognizing their actions any less critical. By using software that integrates with employee communication apps, you can provide positive recognition in an online social environment.

How Does Employee Recognition Improve Company Culture?
Employee recognition encourages employees to stay with the company and provides avenues for personal achievement in the workplace. Not only does employee recognition contribute toward a positive home environment for employees, but it also helps build teamwork.
By encouraging employees to shout out good work by other employees, you can cut back on workplace competition and create a collaborative virtual workplace. In addition, recognized employees are motivated, which is especially important in a remote workforce.
Any workplace that cultivates a positive, validating environment for its employees improves its workplace culture. By treating your employees like the assets they are, you encourage productivity, creative solutions, and employees that go above and beyond for their employer.
Top 3 Virtual Employee Recognition Software
Since we've covered why recognition is crucial in the workplace, let's review our top 3 picks for virtual employee recognition software. We've picked these options for their ease of use, integration, additional features, and overall cost.
CultureBot
Our top pick for virtual employee recognition software is CultureBot. CultureBot integrates directly with Slack to provide employee recognition in group channels. Not only does this software allow you to shout out employees, it includes features like birthday reminders and a water cooler setting that generates conversation prompts.
Have you ever wondered what celebrity lookalike your coworkers have? How about their least favorite foods? The water cooler creates fun prompts for Slack channels to break up the workday. You can customize CultureBot to your unique virtual needs with the schedule ahead settings and frequency tools.
This software takes the best parts of workplace socialization and adapts them for the virtual age, automating standard HR notifications like birthdays, anniversaries, and employee shoutouts. By blending office communication and employee validation into your Slack channels, you can reinvigorate employee communication and take the stress out of checking your Slack notifications.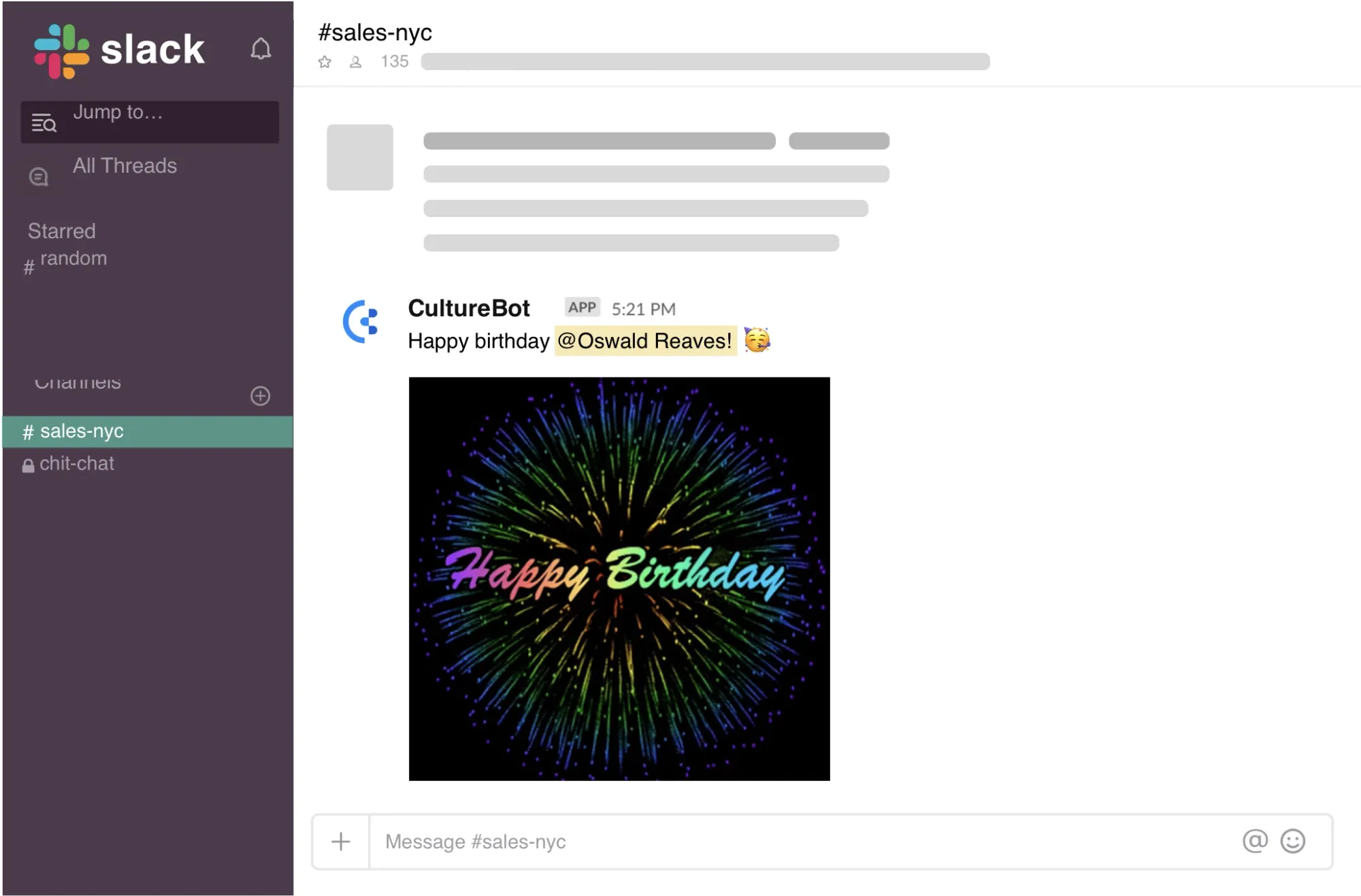 CultureBot works for teams of all sizes, allowing you to track work anniversaries, birthdays, and more with one system. So whether you're looking to keep a large group of employees engaged or are a small startup, CultureBot is the right employee recognition software for you.

Nectar
Nectar is another employee recognition software that integrates directly with Slack and Microsoft Teams. This platform is best for larger companies and includes physical rewards through Amazon Business. Gone are the days of handing out gift cards at office events. With integrated rewards, your business can give physical recognition of a job well done without ever leaving the app.
From teamwork shoutouts to wellness reminders, Nectar can bolster virtual employee recognition for your business. However, remember that while this app has reminders, it is less socially oriented than our top pick and works best for larger offices.
Assembly
Assembly is an employee recognition app that focuses on physical rewards for a well-done job. With peer-to-peer shoutouts and manager feedback, this app helps promote a positive work environment. Not only can you create customized giveaways with Assembly, but if you have a small team of ten members or less, Assembly offers free services.
Again, while this app offers similar employee recognition options to other software on our list, it focuses on employee feedback, not social connections. Still, if you're looking for virtual employee recognition software made for smaller businesses, Assembly may be a good fit for you.