7 Must-Have Company Culture Apps for Boosting Morale
Employee morale is an essential factor in keeping your team engaged and productive. An unmotivated team is a drag on your business and can cause employee retention issues. Whether you work in a traditional office or have remote employees, boosting employee morale should be one of your top priorities.
There are a few ways to ensure team spirit stays high at your company. First, ensuring your employees feel engaged and appreciated can help forge stronger connections throughout your team. Second, prioritizing employee wellness and feedback can solidify for your employees that you value them beyond the surface level.
However, managing these programs can become overwhelming, which is why company culture apps are a massive boon for any office. From apps meant to build team engagement to socializing apps that revolutionize team bonding exercises, here are seven must-have company culture apps for boosting morale.
1. CultureBot
Employee engagement programs? Check. Social prompts to keep Slack channels moving? Check. Wellness checks integrated into the system? Also a big check. If you're looking for a company morale app that has it all, you need CultureBot.
Our app combines the best into one convenient, easy-to-use program that will elevate your company culture. From our virtual water cooler program that helps keep the conversation going to wellness and motivational prompts made to encourage employee engagement, this app has everything you need to boost company morale all in one place.
Self-care and meditation reminders help foster a relaxed workplace alongside exercise initiatives and rewards. By combining employee recognition with self-care, team leaders can show fellow employees that they value their input and well-being.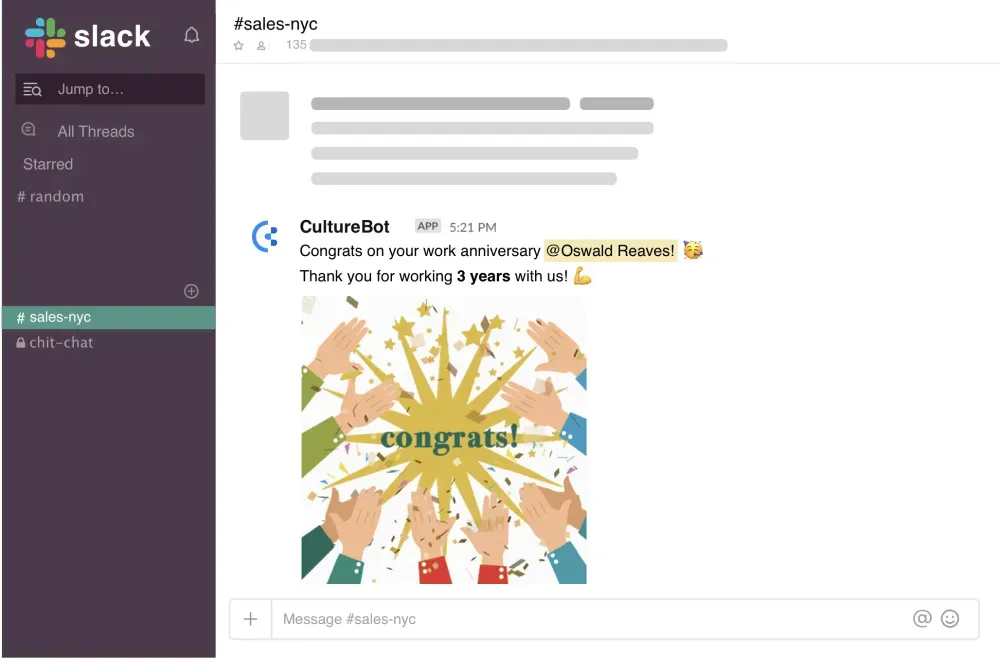 With easy Slack integration, customizable controls, and even giveaway programs perfect for encouraging and acknowledging team members going above and beyond, CultureBot is a one-stop shop for boosting your team's morale.

2. WorkTango
Formerly known as Kazoo, WorkTango offers tailor-made programs to incentivize employee behaviors and reward team members who go above and beyond in the workplace. For example, the points-based reward structure allows team leaders and office members to acknowledge a well-done job. In contrast, the custom goals program allows upper management to set priorities and track individual improvements.
This app is excellent for a larger workplace looking to acknowledge a job well done publicly and hoping to keep their employees engaged. Not only does this app allow for sharing praise with the whole team, but the 1:1 feature also allows for private correction and praise, perfect for shy employees or situations where a quiet "job well done" is more appropriate. If you're looking for an app to boost employee satisfaction, try WorkTango.
3. Motivosity
Motivosity allows great team leaders to provide rewards for hard-working employees. Combining public recognition with tangible rewards, Motivosity will enable managers to build employee morale by showing appreciation. With peer-to-peer praise functions, your team can connect and create a positive work environment. So if you're looking to foster individual appreciation and team-wide morale, Motivosity is here to motivate your team.
While this app focuses primarily on team recognition, it can help drive employee engagement and foster a sense of accomplishment across your team. With built-in leader coaching and insights, Motivosity can turn would-be leaders into productivity powerhouses. If you're looking to build a positive work culture, check out Motivosity today.
4. Mo
Mo encourages team members to shout out important moments from the work week. Whether highlighting a new milestone or appreciating a coworker who went the extra mile, Mo's recognition prompts encourage employees to support one another. Team leaders can inform the team of business milestones with a single click, while Mo's shoutout prompts allow employees to recognize each other's work and highlight key moments from the past week.
While Mo focuses exclusively on team shoutouts, they can still be vital for bonding and employee satisfaction. Recognized employees are more likely to stay with the company, and fostering employee connections can strengthen your team.
5. Confetti
Gone are the days of trust falls. With Confetti, you can schedule team-building exercises that will entertain the entire office. Confetti offers an exclusive list of rotating games and activities to engage your team and boost company morale. This virtual office game space combines the best aspects of online collaboration with fun, innovative activities sure to bring the whole office closer together. Confetti is perfect for managers looking to plan employee engagement events that are accessible and exciting. With Confetti, energy spent coordinating the next office brunch can instead go to team bonding and other vital projects. If you're looking for a semi-regular event to boost your team's morale, give Confetti a try.
6. QuizBreaker
Bring the fun of trivia night to the office with QuizBreaker. This innovative team engagement program fosters employee connections through trivia prompts. Ever wondered what your team leader's favorite breakfast is? With QuizBreaker, employees can learn about one another in a fun, engaging environment that boosts employee morale and brings everyone closer together.
With 100 curated icebreakers and space to add custom entries, QuizBreaker makes team introductions more straightforward than ever and encourages employees to get to know one another. By turning employee introductions into a game, team bonding has never been easier. In addition, while many of QuizBreaker's questions focus on surface-level answers, they can open the door to deeper connections, boosting your team's overall morale and satisfaction. Try QuizBreaker for free to revolutionize team bonding.
7. Headspace
Employee wellness is a crucial part of building morale. With Headspace, workplace meditation and reflection takes center stage. This app features sleep trackers, mindfulness reminders, and more to lower overall stress and boost productivity and satisfaction. By encouraging self-care and relaxation, your employees are sure to feel appreciated. While Headspace is a stand-alone app, meaning it doesn't offer other employee morale programs, its overall benefit as a self-care tracker should not be overlooked. From fostering employee appreciation to lowering overall stress levels, Headspace can help transform your office.
Headspace is an excellent option for your office, fostering self-regulation and reflection and lowering overall stress levels. Check out their website today to learn more about this wellness program.