Bonus.ly Slack App Alternatives: 5 Competitors For Extra Employee Recognition

Employee recognition is a great way to boost retention and fight burnout and workplace fatigue. With so many businesses moving online, whether fully remote or hybrid, it's no surprise team leaders look for virtual ways to recognize their team members and boost workplace morale.
Slack apps like Bonus.ly offer physical rewards tied to employee shoutouts. However, this app isn't always the best fit for every team. Compared to other morale-boosting Slack apps, Bonus.ly is quite limited in scope. While offering physical points may work for some groups, team leaders may look for other avenues of employee recognition.
This article covers some of the best Bonus.ly Slack app alternatives and how these extensions boost team morale and keep employees feeling valued and fulfilled. Here are the top five Slack integrations to boost team morale and recognize employee accomplishments.
1. CultureBot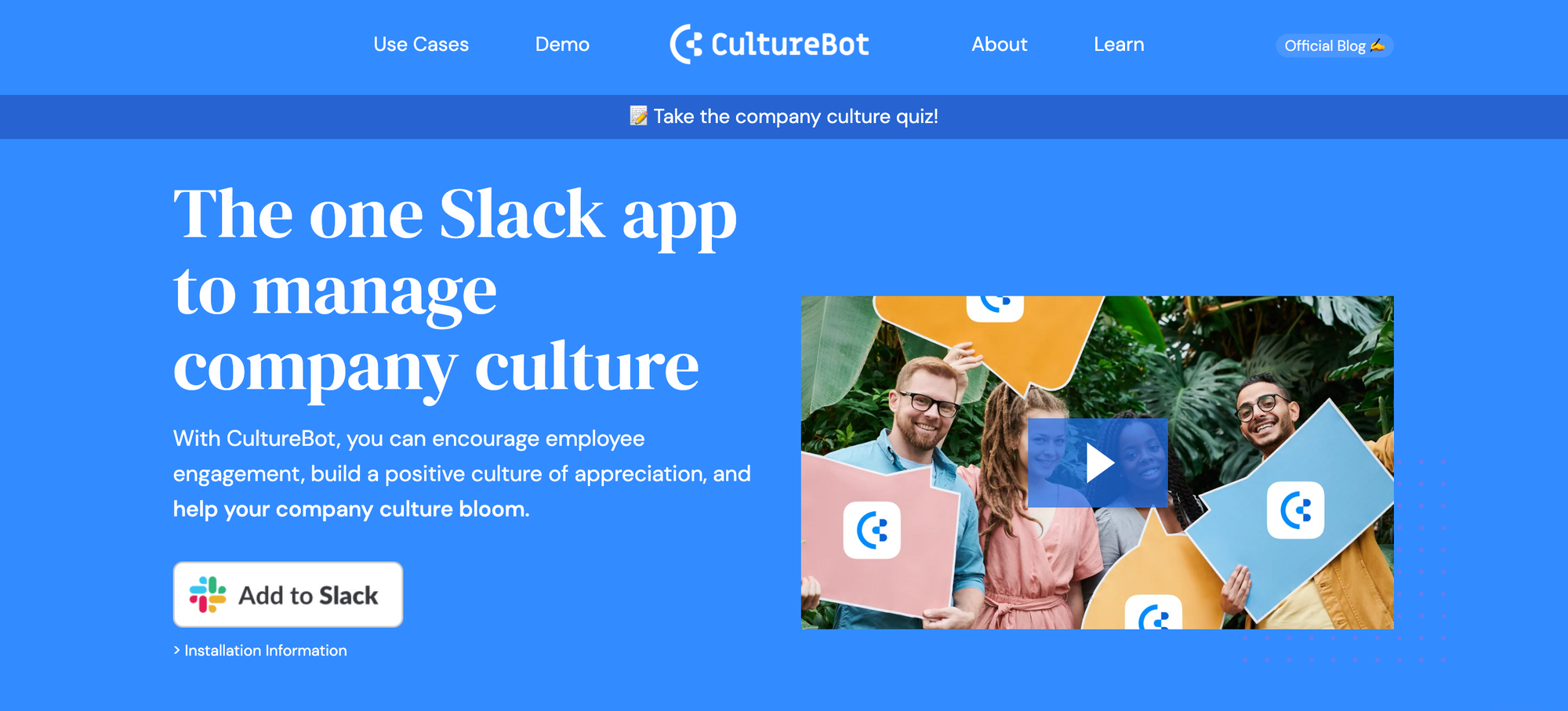 Our top pick for Slack integration to recognize your employees and craft a positive virtual workplace, CultureBot, is an app that does everything. If you're looking to automate HR tasks like birthdays and workplace anniversaries, CultureBot does that. If you want to generate social prompts to keep Slack conversations flowing even during the post-lunch malaise, CultureBot has that function. From acknowledging employees to encouraging wellness initiatives, CultureBot makes managing a remote or hybrid team Slack easier than ever.
CultureBot helps team leaders show appreciation for a job well done with team callouts and allows individual team members to note positive moments throughout the day. You cultivate a positive workplace that encourages collaboration over competition by encouraging your team to unite to support one another.
Another perk of CultureBot is the automation feature. HR already has enough to do without sending individual messages for every birthday and work anniversary on the calendar. With CultureBot, these messages are automated, freeing up HR without leaving any employee behind or making anyone feel left out.
Suppose you're looking for a Slack app combining social prompts, automated messages, employee callouts, and wellness reminders. In that case, CultureBot is a great Slack integration for any remote or hybrid team.

2. MoodBit
MoodBit offers real-time analytics on team engagement so you can better tailor your Slack channels to your team's needs. From meeting responses to overall workplace satisfaction, MoodBit tracks key data points to help team leaders accurately read their team's mood. Not only does MoodBit collect these insights automatically, but it also sends out pulse surveys to keep employees engaged throughout the day.
MoodBit does much more than track information. Thanks to MoodBit's bot, Joy, employees receive customized suggestions on improving their mood and productivity throughout the day. MoodBit even crafts custom team-wide suggestions to help prep your team for the week ahead.
While MoodBit may not have as many direct employee acknowledgments features as some of the other options on this list, it can be useful to track overall engagement and help team leaders identify key areas that need improvement. So if you're looking to harness the power of AI to drive up team engagement, MoodBit may be the right app for you.
3. BirthdayBot
Nothing makes an employee feel more appreciated than having their birthday remembered. With BirthdayBot, you can automate birthday and workplace anniversary notifications. Not only does BirthdayBot notify the entire team of a special event, but it also imports custom wishlist data to help make gift-giving a breeze.
One interesting feature of BirthdayBot is that it allows team members to keep their birthdays private. This level of control gives each employee control over their information and can stave off discomfort if someone would rather not celebrate their birthday for personal or religious reasons.
While BirthdayBot is a single-purpose add-on for Slack, it has plenty of customization features and allows you to acknowledge your team member's special day no matter how far apart you are. So if you're looking for a great way to automate birthday reminders, BirthdayBot is a great fit for your team.
4. EngageWith
EngageWith combines employee acknowledgments, surveys, and rewards in one Slack integration. This app allows you to streamline several different programs within one app. For example, collect data with pulse surveys or award kudos for a job well done. This app even allows you to track birthdays and work anniversaries.
While the kudos function in EngageWith does allow for individual shoutouts, it also allows team leaders to set up rewards for employees who went above and beyond in the workplace.
Although this app lacks some of the social features seen in other apps in this list, if you're looking for a basic app to track birthdays, acknowledge employees, and track overall engagement, this is a good first Slack app.
5. Polly
Getting honest feedback can be a struggle. That's where Polly comes into play. Polly uses the power of AI to conduct surveys and gather anonymous team data. For example, if you feel team engagement is dipping or want to know if that last meeting was as successful as you hoped, send a pulse survey using Polly to see how your team feels.
Polly is fully anonymous and can even collect anonymous demographic data to help you gauge how different age groups in the workplace connect over Slack. This Slack integration can also host question-and-answer sessions and comes with a suggestion box so team members can engage with the virtual workspace.
While Polly may not have the social prompt functions of some of the other entries on this list, if you want honest feedback on improving employee engagement, Polly is a great integration.
Conclusion
Our obvious top pick for the best Slack integration for employee engagement is CultureBot. CultureBot offers the most features, streamlines processes, and ensures every team member feels valued. So if you're looking for a great, simple way to increase employee morale, drive engagement, and fight burnout, all while working virtually, CultureBot is a lifesaver.
With CultureBot, showing your employees you value them is easier than ever. If you want to start with CultureBot or have any questions, contact our team to learn more today.