Best Employee Engagement Apps & Bots for 2023
Employee engagement has declined, with Gallup reporting a 2% drop in employee engagement in 2022. This drop in engagement, paired with the "quiet quitting" trend of mid-2022, is enough to concern any employer. But re-engaging your employees is easier than you may think.
With the rise in employee engagement apps, you can streamline employee engagement and build interdepartmental communication at the same time. First, we will look at employee engagement applications and what to look for in a good employee engagement app. Then, we'll dive into the top 5 engagement apps for 2023.
What Are Employee Engagement Apps?

Employee engagement apps are tools used for improving employee productivity and morale. An employee engagement app helps employees connect with each other and keeps employees happy and engaged.
Unlike communication programs like Slack, which are used primarily for communication, employee engagement apps and programs encourage employees to interact with content, driving up their workplace engagement. Depending on what you're looking to boost in your business, your company can choose several different types of employee engagement apps. In addition, there are countless apps to choose from, from workplace culture applications like CultureBot to performance-tracking programs.

Top 5 Employee Engagement Apps & Bots
Now that you have a better idea of what to look for in an employee engagement app, let's look at our top 5 picks for employee engagement apps. These top picks consider employee engagement, wellness initiatives, messaging security, social engagement, and more. We also looked into the overall cost of each app and the ease of use when compiling this list so you can focus on picking the best fit for your unique company culture.
CultureBot

CultureBot is our top pick for employee engagement apps, hands down. Our employee engagement app works as a Slack extension, meaning you can integrate it with already-existing slack channels.
Our slack app offers wellness initiatives and daily health tips and encourages employees to interact with one another thanks to its water cooler prompt system. If you've ever suffered from dead Slack channels, our tool can help. Our app generates conversation prompts for employees to help keep communication open throughout the day, removing a socialization barrier to silent Slack channels.

If you've struggled to track birthdays and work anniversaries,  the app takes the stress away entirely. With anniversary notifications and birthday reminders, CultureBot makes every member of your team feel included and valuable to the company.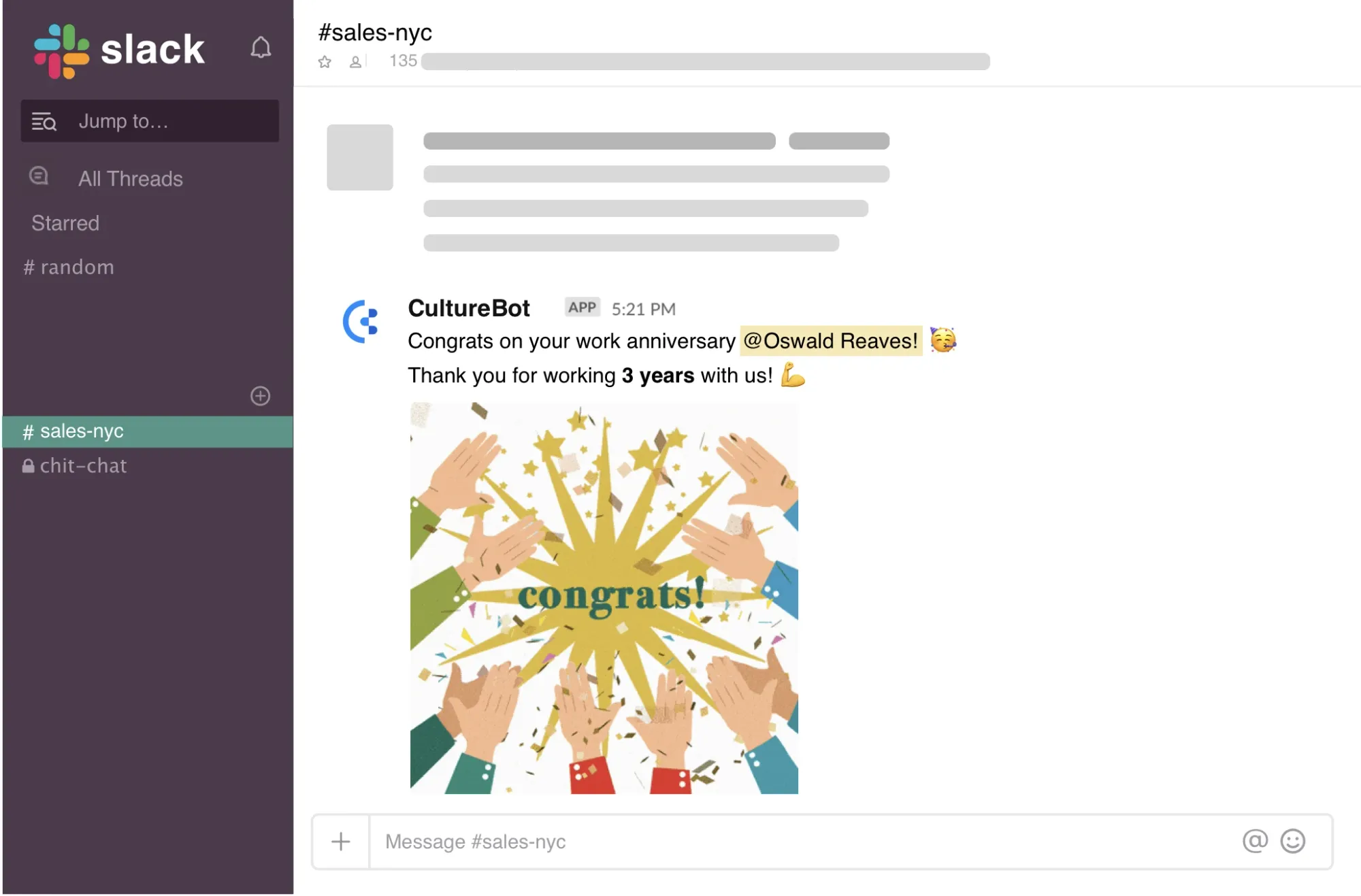 If you're looking for an employee engagement app that fits seamlessly into your company's culture, we'd love it if you'd give Culturebot a try.  Check out our demo here!

Blink
If you have frontline employees, communication should be your top priority. With Blink, you can communicate with all employees no matter how far afield their work takes them. In addition, Blink combines several services into one app, allowing you to share with IT, HR, the home office, and frontline workers from one service.
Keeping communications localized to one app allows you to easily track worker insights and streamline communication between departments. This intuitive app is easy-to-use and keeps company information safely in one location. Blink is a good choice for offices with several departments across multiple sites and prioritizes communication over other forms of employee engagement. Still, if you're looking to manage various groups through one app, Blink may be a good fit for you.
CultureAmp
CultureAmp supports companies like Mcdonald's, Etsy, and more by keeping employee engagement and retention in one convenient location. This app combines the benefits of an employee engagement app with targeted predictions to help management. In addition, this app uses targeted surveys and analytics to get a feel for employee satisfaction and productivity levels. So if you're looking to track potential employee turnover rates, connect with your employees, or track overall engagement, CultureAmp is a good fit.
OfficeVibe
This company focuses on a people-first approach to employee connection. With Officevibe, you can host employee surveys, encourage employee communication, and nurture future innovators within your company. Targeted toward hybrid office environments, Officevibe encourages honest, open communication and helps your employees feel a part of the team.
Bonusly
Employee engagement and retention can be hard to measure, so Bonusly puts a physical points system on employee interactions. Blink is the employee engagement app for you if you're a fan of giving out bonus points. From rewarding clear communication to giving employees that go above and beyond a shout-out, Bonusly lets you reward socialization while tracking employee engagement and communication within your company. From rewarding clever solutions and acknowledging new designs to encouraging employees to share their ideas, Bonusly is a reward program tailored for a professional setting.
Grove HR
Grove HR is a simple tool that provides HR software for startups and SMB companies to automate onboarding, performance management, time-off, attendance tracking, payroll assistance and more. Great for small and mid-sized teams, it's worth checking into to save you time on the sort of tasks that every early-stage people and culture leader/manager has to take on.
The Benefits of Employee Engagement Apps & Bots

Technology is a cornerstone of the modern workplace. One survey noted that 83% of the workers surveyed relied on technology to communicate with their coworkers and transfer documents. While this is an encouraging number for employers, many workers noted that they relied on external apps like WhatsApp to speak during the workday without approval from HR.
Not only does this show a need for an employee engagement and communication app, but it also spells serious concerns for information management, as unauthorized messaging apps could lead to data leaks.
Using an employee engagement app has apparent benefits:
It keeps employee communication in one place, helping protect sensitive information.
It helps drive employee engagement, helping them feel a part of the workplace.
With a switch to hybrid and work-from-home workdays, an employee engagement app can help employees feel connected to the office culture even if they can't gather around the traditional water cooler.
Harvard Business Review noted that using an employee engagement app can raise employee engagement as high as 75%, making it a worthwhile investment for any company. However, some things to consider before picking any employee engagement app. Let's discuss what to look for in an employee engagement app and how these apps can boost your company culture.
What to Look for in an Employee Engagement App
When searching for the right employee engagement app for your business, there are a few things to consider. First, you want to find an app that meshes well with your company culture. In general, employee engagement apps help traditional office workplaces, but there are plenty of exceptions to fit the needs of other workforces.
Second, you want an application that fills the need for social recognition in the workplace. From birthday announcements to work anniversaries, having an engagement app that makes your employees feel valued and remembered is crucial to driving engagement.
Third, you want to find an app that prioritizes employee wellness. The health of your employees directly connects with the health of your company. By incentivizing wellness initiatives and including workplace tips in your employee engagement app of choice, you'll help construct a positive, open workplace environment.
Finally, employee engagement apps help build camaraderie across departments, allowing workplace communication without losing productivity.
Now that we've covered the basics of what to look for in an employee engagement app let's take a closer look at each bullet point we've mentioned. Remember that your business may require more or less of these subjects to boost employee engagement, so be sure to consider your business needs alongside the general goals of an employee engagement app.

Company Culture

Cultivating your company culture is crucial to creating an engaged workplace. A good employee engagement app can develop this culture while connecting with your employees personally. The right employee engagement app can grow your company culture by providing surveys, including informational training videos, and encouraging employees to talk with one another. When used correctly, these tools can help you create a workplace culture that is open, honest, and nurtures new talent without compromising productivity.
Employee engagement can be a fickle goal. By creating a workplace that feels welcoming to your employees, you can passively encourage employee productivity without pressuring employees. A company culture that promotes learning and personal accomplishment, and recognizes their employees' efforts, will lead to an engaged workforce.  
In many ways, "company culture" is hard to pin down. Setting clear goals for your business and considering what kind of workplace culture you want to cultivate is essential. While a competitive workplace culture can work for some departments, it can hinder interdepartmental communication and lead to frustration.
Instead, recognizing each department and individual for their efforts while encouraging productivity and communication can help create a healthy workplace culture. A good employee engagement app helps bolster department communication while acknowledging your employees' achievements.
Social Recognition

Every employee wants recognition for their hard work, which carries over to the social side of the workplace. As a result, many employee engagement applications have social recognition programs worked into the system. From mentioning employee birthdays and accomplishments to sending tailored video recommendations, a good employee engagement app helps make even large offices feel personalized and welcoming.
Employee engagement apps come with a wide range of programs to help drive social recognition, from automated birthday and workplace anniversary messages to congratulatory messages for deliverables met, deadlines surpassed, and personal goals achieved.
An important thing to consider when looking for an employee engagement app is how closely it mirrors social media. Social media taps into the brain's need for input on both a social and an evolutionary level. The fast-paced, quick-information setup of social media keeps users returning to the service; the same applies to an employee engagement app. With social recognition worked into your employee engagement app, the program is likely to feel comfortable.
A good employee engagement app encourages learning by constantly updating learning options while providing opportunities for employees to connect in a virtual workplace environment. By combining the quasi-addictive setup of a social media platform with the productivity-boosting benefits of an employee engagement app, your employees can feel connected socially to one another while still benefiting your company.


Employee Wellness
Employee wellness contributes to several aspects of workplace culture. First, healthy employees are likely to benefit your bottom line in productivity and a lack of days lost. Second, since many employees spend most of their day at work or commuting, blending employee wellness into your company culture gives your employees a chance to work on personal goals, from mental and physical health to personal advancement.
Employee engagement apps can encourage employee wellness by including informational segments on fitness or offering raffles or rewards for personal health goals. Workplace wellness can come in many forms, from taking microbreaks from work to encouraging focus to guidelines for desk setup and proper posture. These all contribute to your employee's overall health and can make a marked difference in your office culture.
Generally, a good employee engagement app offers wellness reminders and rewards employees for meeting personal goals. You can also create interoffice workout goals or have wellness initiatives to encourage employees. Weekly health tips and health lotteries can also have a marked impact on the overall health of your team.
While simple health reminders may not seem like much, they can gradually impact your workplace and help employees feel like their employer cares about their health.
Builds Camaraderie
While this ties into the social engagement portion of this discussion, building camaraderie between employees is crucial to maintaining a positive workplace culture. This camaraderie applies twofold in situations where employees are absent from a physical workplace, whether that is due to a remote workforce or traveling employees.
By giving your team a work-approved channel to interact with one another, you not only encourage employee interactions but also cut down on external application use for communication. Using an employee engagement app that integrates directly with office communication services like Slack encourages your employees to talk to one another, get to know each other better and improve your overall workplace.
FAQs About Employee Engagement Apps

What is an employee engagement app?
An employee engagement app is an invaluable tool for improving a team's overall productivity and morale. It helps remote employees stay connected with their company culture, provides insights into employee sentiment, improves overall employee experience and satisfaction, and encourages team communication. By using an engagement app to its full potential, companies can increase their employees' engagement and help them feel more appreciated and fulfilled at work.
Why should you use an employee engagement app for your company?
An employee engagement app can be a great tool to help improve retention, productivity, and overall business success. It provides a platform for remote employees to connect, interact, and collaborate more effectively. The app can collect actionable insights into employee sentiment and engagement levels, helping managers identify areas for improvement. It also encourages team members to align their values with the company's values by utilizing strategies such as feedback loops and goal setting. With an employee engagement app in place, teams will have better insights into how their work is viewed by the company, providing them with more motivation to succeed.
What are the top drivers of employee engagement?
Creating a meaningful work experience, recognizing and rewarding employees for their performance, providing career growth opportunities, cultivating a positive work environment, and fostering effective communication can all help to drive employee engagement. By focusing on these critical aspects of workplace culture, businesses can increase employee engagement levels, improve employee retention rates, and foster a thriving working environment that benefits employees and the organization.
What are examples of employee engagement that companies use?
Companies can utilize various strategies to increase employee engagement, such as administering employee engagement surveys, conducting performance reviews, implementing employee apps and platforms, hosting company events and activities, and more. Doing so is beneficial as it helps improve employee engagement levels, job satisfaction, and retention. In addition, when companies focus on increasing employee engagement, they create a more positive and successful work environment.
What are popular employee engagement app features?
Employee engagement apps provide companies with various tools to help promote employee engagement and productivity. Features such as wellness initiatives, social recognition, communication tools, survey and feedback tools, and performance tracking can help build morale and create a more positive work environment (especially for remote teams). By utilizing these features, businesses can improve internal communication, identify areas that their team can improve upon, and foster increased employee engagement - all of which will lead to tremendous success for the business. Often, employee engagement tools have their own Slack apps for easy integration.

What to look for in an employee engagement app?

When selecting the right employee engagement software for your company, it is essential to consider factors such as company values, employee experience, actionable insights, action plans, and easy-to-use platforms. Find an app that facilitates better team engagement and promotes an engaged workforce, leading to improved business success. The software should be aligned with your company's culture and encourage wellness and recognition. It should also feature tools for creating and tracking action plans related to employee engagement. Additionally, the app's interface needs to be user-friendly to ensure it is accessible not only by employees but also by managers.
Final Thoughts
The COVID-19 pandemic has forced many companies to transition to remote work, bringing challenges to employee retention and engagement. Companies can take advantage of employee engagement tools such as employee engagement apps to address these issues. These apps provide a platform for employees to connect, stay up-to-date with company news, and offer real-time insights into employee sentiment so employers can identify areas for improvement.
There are a variety of employee engagement solutions on the market, including platforms, apps, and bots. Companies should choose an app that best suits their needs and culture. Some popular employee engagement apps for 2023 include CultureBot, Blink, Culture Amp, Officevibe, and Bonusly.
Using employee apps can help drive better communication between a remote workforce, improve morale and feelings of connectedness with the office culture, and generate actionable feedback for employers regarding retention and engagement levels. As a result, companies can create a more productive workforce by investing in quality employee engagement tools such as apps and software.