6 Best Slack Employee Engagement Apps
Studies show that engaged employees are likelier to stick with the company, leading to high overall retention. However, managing employee engagement can be tricky, especially with the workforce moving online and company culture shifting to virtual and remote workspaces. Thankfully, there are plenty of Slack apps to help drive employee engagement without adding another task to your team leader's plate.

Here, we cover the six best Slack apps for employee engagement and cover how these innovative apps can foster a positive work environment. From apps meant to prompt conversations to mood trackers and survey programs, we've rounded up some of the top employee engagement apps on the market. So, without further ado, let's jump into our top picks.
1. CultureBot
CultureBot understands there's more to employee engagement than offering rewards or prompting conversation. CultureBot combines the best of a wide range of Slack apps into one convenient program. From the virtual watercooler function that encourages conversations and keeps employees talking to birthday and anniversary reminders that automatically do the work of an HR team, CultureBot takes some of the stress off of team leaders, allowing them to focus on projects instead of fretting over team bonding.
Thanks to fun conversation prompts, wellness reminders, and even giveaways as rewards for work well done, CultureBot is your number-one stop for employee engagement tools that make a difference. While other Slack apps focus on one tiny facet of employee engagement, CultureBot has everything you need to boost your team's connections all in one place.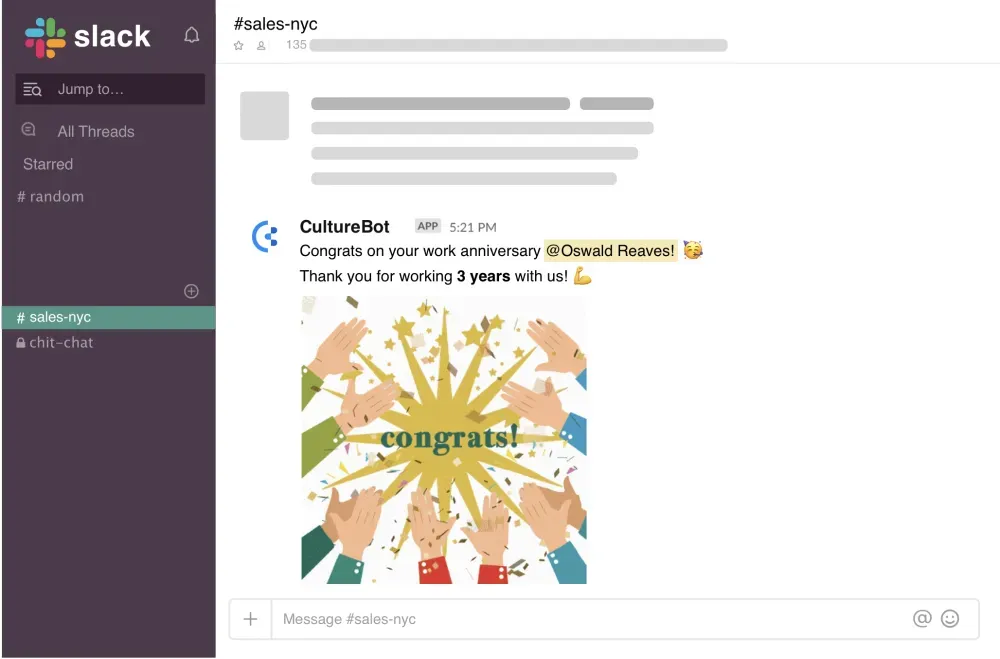 As a bonus, CultureBot offers wellness reminders encouraging employees to take a step back and care for themselves. This subtle form of engagement reminds your team that they are a valuable part of the company. Taking a moment to recenter themselves is an investment in their well-being and future productivity.
With customizable settings, programmable prompts, and more, CultureBot is a full suite of employee engagement tools that are easy to implement and intuitive to use. So if you're looking for our top pick for the best employee engagement app for Slack, CultureBot is the clear winner.

2. Moodbit
Ever wanted to get a sense of your team's mood without asking? That's where Moodbit comes into play. Thanks to the power of AI, Moodbit analyzes conversations in Slack to give a better idea of the overall conversation tone. Moodbit combines automated analysis with regular surveys to provide a comprehensive view of team satisfaction, stress, and overall mood.
With customized prompts to help boost employee moods and tailor-made surveys, Moodbit is an excellent option for team leaders looking to read between the lines to drive team engagement on a whole new level. While Moodbit alone may not be enough to boost your team's overall engagement, it can be a step in the right direction for dedicated team leaders hoping to boost office morale.
3. BirthdayBot
Tracking work birthdays can get out of hand fast, especially in a large office. BirthdayBot automates tracking birthdays and work anniversaries, allowing team leads to focus on other areas of employee engagement. So whether you're looking to track individual birthdays or want to celebrate work anniversaries and more, BirthdayBot is a great way to keep things organized.
The automatic prompts make employees feel noticed while ensuring everyone gets a chance to wish a happy birthday, no matter how remote the team is. While this is a reasonably specific employee engagement app, it can make a big difference for large offices where tracking birthdays across multiple groups becomes overwhelming or when paired with other employee engagement apps.
4. Polly
Who can pass up on a Slack app with an adorable parrot as the mascot? Polly is a survey app that rates team mood and engagement and has automated functions for onboarding new hires. Not only is this app a great way to get anonymous feedback on overall employee engagement, it includes several social game options to bring the team closer together.
Polly also includes employee shoutout features to acknowledge a job well done and icebreaker surveys to help team members get to know one another. If you're looking for a smaller, less intrusive employee engagement survey app that doesn't rely on AI, Polly is an excellent option for your team.
5. Trivia
Who doesn't like a good round of trivia? This trivia app combines company games, a virtual water cooler, and birthday reminders all in one app. While the app is unpolished, its services make up for its rather bulky state. From Pictionary games and unpopular opinion polls to scheduling one-on-one coffee meetups, this is a robust app that tries to wear many hats. In general, if you're looking for an app to drive employee engagement, this app offers fun games and social prompts perfect for breaking the ice and reducing stress between projects.
Custom quiz options allow you to test your employees on workplace policy in a fun environment or use one of their premade quizzes for a fun lunch activity. With a little bit of creativity, the options are endless with this trivia app.
6. EngageWith
How can you pass up an employee engagement app with the goal in the name? EngageWith prioritizes employee engagement and recognition by offering kudos for a job well done. Public recognition goes a long way in the workplace. With virtual kudos and awards programs built into the app, EngageWith can help motivate your team and create a positive workplace environment.
The customizable Pulse surveys can be completely anonymous and are an excellent tool for team leaders to gauge workplace satisfaction. In addition, the built-in rewards program connects to large retailers, including restaurants, allowing employees to turn virtual kudos into real-life benefits. On top of its survey functions, EngageWith also includes automated birthday and anniversary reminders to shout out employee milestones, so you can spend less time checking your calendar and more time connecting with your team. So if you're looking for a survey-based engagement app for Slack, check out EngageWith today.