Best Slack Apps for Remote Teams in 2023
Slack is finding its home as an organized communications platform for companies and even more for remote teams. It provides significant flexibility in when, where, and how to work, providing countless benefits to the well-being and productivity of groups operating outside the office.
For Slack, it's essential to have the right tools, and to that end, hundreds of apps integrate well and help you accomplish your goals, regardless of the scale or style of the project you're working on. We've got a list of our favorites coming up, but first, here's how Slack is so beneficial to the remote teams who use it.
Why is Slack so Important for Remote Teams?
Working in remote teams has many advantages over physical offices, but it also comes with some significant challenges. These are primarily issues with communicating; as such, remote teams have to figure out effective ways of staying in touch and on the same page.
When you need direct and immediate communication, Slack is convenient. But, of course, you can use many messaging apps across different platforms. Still, there's also a growing industry standard in tech towards using Slack for its versatility and benefits.
You can break these benefits into five key strengths that Slack can provide remote teams; let's take a look.
Workplace and Team Culture
One of the few benefits of working in an office is the social exposure staff get with one another. However, while working from home is preferable for almost everybody, there needs to be more company. Therefore, one key challenge of remote working apps is to recreate some of those benefits from a distance.
Slack has a set of core values for its workers that revolve around team culture. These are:
Empathy
Courtesy
Thriving
Craftmanship
Playfulness
Solidarity
Empathy is a key one to pay attention to here, as it underpins the desire for a remote platform to provide a real connection between its users. Slack has also been very open about its intentions, stating that they're aiming to balance a work-life ratio by creating a company culture that passes on to those who use the platform.
According to the CEO, Stewart Butterfield, Slack is selling "a reduction in information overload, relief from stress, and a new ability to extract the enormous value of hitherto useless corporate archives. We're selling better organizations, better teams". And this all emanates from the push toward a new era of workplace culture.
This is a product that drives workplace culture from the inside out. The nature and values of the Slack teams are designed and expected to bleed into their services, acting as a positive contagion for its users and promoting a healthier culture of remote work fueled by its six core values.
As a result, the vibe you get from the moment you arrive on the platform promotes a balance between wellness and productivity from the get-go.
Productivity and Collaboration
Despite the fears from management, productivity boosts have been an undeniable result of the post-pandemic remote work experiment. That said, there are plenty of ways in which facilitating this productivity becomes a lot harder while managing teams from a distance.
In Slack, productivity is a byproduct of creating a productive space. It comes from an organic place, facilitated by the healthy environment Slack is trying to develop. By building relationships and reducing distractions, Slack apps promote productivity and collaboration rather than forcing it, and the result is a natural and lasting boost to both.
Meetings are reduced by roughly a quarter in many cases (more on that later), and delay-reduction principles, such as automation tools designed to reduce the delays of context switching, can be employed to streamline the workflows for its users.
Of course, one of the critical drivers of collaboration needs to be communication, and the channel-based messaging available on Slack helps keep contacts organized and grouped in valuable ways.
The final roadblock to organizing these communications channels is the level of integration between the tools. Real-time collaboration software should work alongside your calendar, video caller, CRM, and file storage systems, and Slack aim to bring all these tools and all your workflows together to make this easier.
In this way, you can leverage the tools already at your disposal to maximize and improve your results. Ultimately, this makes collaboration a lot smoother for remote workers, which also boosts productivity.
Project Management
These powerful integrations bring tasks of all sizes together to allow you a simple overview of your project and easy access to all the relevant project files.
Slack project management tools allow teams to create, update, and delegate tasks without leaving the platform. It then keeps all items clear and visible so that everything is noticed. In addition, teams can create as many project-specific channels as they want to, allowing the correct information in the right place.
Channeled communications come in handy here, too, with the ability to alert project managers to updates inside their channels. Tasks can then be logged as completed, or you can add notes. Your team can easily discuss tasks between stakeholders too, and deadlines can be visible to all relevant people, helping to keep everything on track.
Then, automated reminders help add another layer of organization to project management and help to make further sure nothing slips between the cracks. Even if you don't use the task management apps, you can still use the to-do lists and pinned messages.
Meetings
Meetings are notorious for taking up (and wasting) a lot of productivity time. Both in the time it takes to go through the organizing, preparing, and execution stages and how it interrupts the flow of work for anyone involved. This is one area where remote teams are actually in a better position.
Remote meetings are significantly more efficient than their in-person equivalents. This, among the other benefits of streamlined remote working, has led to many workers getting what they want: fewer, more efficient meetings. For example, Slack boasts a reduction of around a quarter in total meetings for organizations using it, depending on where you look.
Meetings are a lot more flexible with Slack. It's often possible to hold meetings when and wherever the team desires, and the platform offers a centralized 'location.' The freedom that comes from this satisfies another critical driver of productivity: it facilitates teams' ability to function in the way they want to.
Adding the proper app to Slack will allow you to schedule meetings and add people without leaving the platform. You can also have recommendations show up to help you find the most appropriate time to schedule the meeting. Then, during the meetings themselves, attendees can make last-minute plans and continue discussions.
The notes from these meetings can be kept available for everyone to check on, respond to, or share with others.
Summary
So, as you can see, Slack ticks many boxes when it comes to filling in the weak points inherent to remote work, but it also boasts some critical improvements on the old ways of doing things. To maximize what you get out of Slack, you need to populate it with the tools that work for you and let it help you bring all platforms together.
We've pieced together a list of the best slack apps for remote teams in 2023.
Best Slack Apps for Remote Teams
We've put this list together to cover a range of useful apps that would be handy in any arsenal. If you're already using these tools outside of Slack, even better! If not, there should still be an app for almost every need here, so stick with us as we go through our top five Slack apps for remote teams.
This app is designed for Slack and focuses on the well-being element we discussed above, which is so effective at promoting collaboration and productivity.
This app desires to build a culture that creates a workspace you want to be in. CultureBot aims to do this by taking away many repetitive tasks, creating positive and engaging micro-moments, and incentivizing employees with elements like the Wellness Lottery and Birthday celebrations.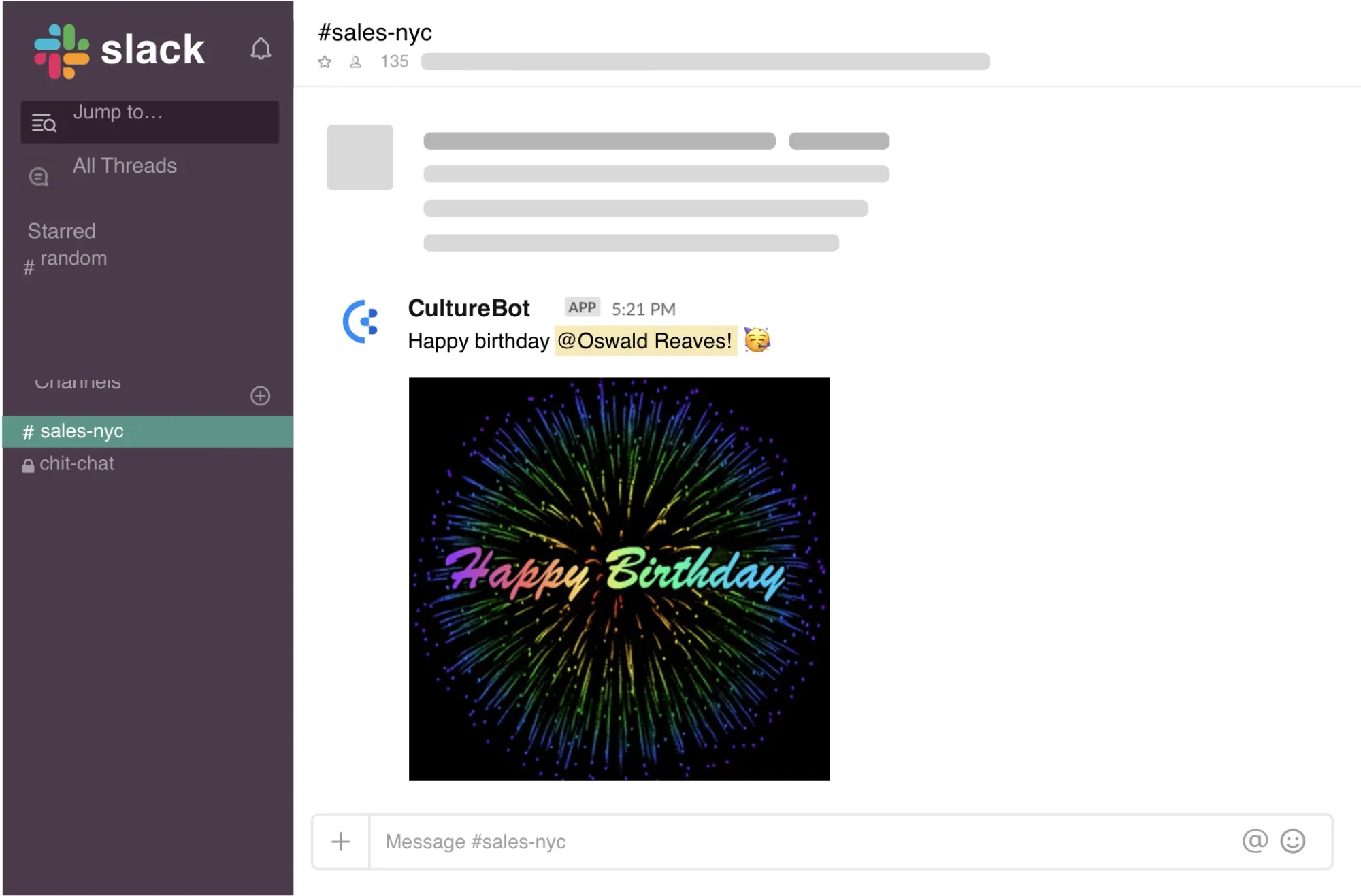 This app is all about making people feel valued, and as such, there are features like:
With these features, teams find that work-life balance and replace a lot of the organic social interaction that is harder to find in remote work environments. Instead, stimulate deeper connections and play games across the virtual platform to keep relationships strong and form new ones as you go.
CultureBot prides itself on being the all-in-one Slack app for team culture. Improved team culture leads to a more productive and engaging environment for teams. In addition, the app fits neatly in alignment with the nature of the Slack platform itself, promoting better organizations and teams.

This app is also designed for Slack, making it super easy to use from the inside. If you're looking for information quickly, this app is the specialist. Setting polls is as simple as typing /Polly in any channel and following the instructions.
From there, teams can answer from inside Slack, and you benefit from the instant engagement, which Polly claims can speed up your response rate by ten times. This is accomplished by designing a lightweight, simple method of sending and filling in polls aimed at streamlining how you can gather people's data.
The data you receive is then visualized in simple dashboards, which can also be collected as a CSV for your spreadsheets. There's also an automation feature, allowing you to streamline meeting feedback and help with tickets and other workflows that don't need to be manually arranged.
Then, there are interactive games that also help to boost the social side of things and bring the teams closer. Polly can even help to onboard new hires with handy templates such as the first 30 or 90 days on the job, follow-up templates, monthly happiness check-ins, etc.
Trello is a popular tool for collaboration that is great for project management at any scale. The Trello app for Slack is designed for seamless workflows with communication and collaboration as the two key features it focuses on.
Trello is packed with features that allow you to view your team's projects from all angles, automate various workflows, and ultimately streamline project management, regardless of the tasks.
Posting a Trello link into a Slack channel provides immediate insights into members, descriptions, comments, etc. In addition, it allows users to change due dates and subscribe to cards, among other things, from inside the channel.
The strengths of the foundation app are all present in the slack app, making it adaptable to any project. In addition, Trello's automation feature allows you to automate internal and Slack actions with a simple "if, then" system that can be managed easily.
Then, its integrations with other apps in Slack allow for a much more powerful range of applications for the app itself, taking it from the generalized project management realm into a far more versatile component in the broader picture of productivity and communication.
Standuply
For an app that specializes in running meetings, Standuply is a good choice. With this app, you can run standup meetings asynchronously and track team performance. In addition, these meetings can be held in text, talk, or video format and can significantly boost collaboration by providing flexibility around when they need to be present.
This app is great for teams in different time zones, but it works just as well when it's simply inconvenient for someone to drop what they're doing and attend a meeting.
The dashboard is simple: select a schedule and add team members to the meeting. Then, you throw in the questions you want each member to answer and integrate data requests if you need to, the results of which can be sent via email or a slack channel.
Once everyone has submitted their responses, the aggregated report is formed, and the whole team can deliver it to them for them to respond or address anything more. This app is a great one for streamlining meetings and removing a lot of redundancy or other inefficiencies from them.
Google Calendar
Google Calendar is one of the most commonly used apps that can effectively integrate with Slack. Doing so will allow you to get reminders and updates for calendar events from within the Slack platform. This saves time and improves your workflow's organization by simplifying where you get your reminders and alerts, but other features are worth going over too.
Slack will now be able to provide you with a daily run-down of your schedule delivered when you choose. You'll also be able to review invite details, see double bookings, and send out reminders before meetings.
You'll also be able to accept or deny event requests from within the platform and create new events in just a few short clicks. You can also set it to notify your teams when you're busy and can't get back to them.
Ideally, you'll be using the same tools in Slack that you already use outside of it. This way, you need to integrate them to start seeing the benefits to your workflows that Slack provides. However, if something needs to be added to your toolkit, you're bound to find an app that can help you.
Whether you're looking to streamline meetings, better organize your project management, or develop your company culture toward a more conducive and relaxed way of being, there's an app for you to run in Slack. Our top picks cover all of these bases and can be used in conjunction with one another to give your remote teams the full range of perks.