Best Slack Apps for Fun in 2023
Fun is one of those concepts that was traditionally frowned upon at work. Then, when companies realized the boosts to productivity that an enjoyable environment creates, they quickly set to work forcibly mandating fun to improve their bottom lines. This resulted in uncomfortable scenarios where many workers would have just been allowed to get on with their work.
Thankfully now there are more effective ways to allow teams to enjoy themselves in the ways they want to, creating a healthier existence for employees and bringing those same boosts to productivity to employers. But why is fun so crucial in the first place? And how do you go about facilitating it with remote teams? We're about to find out.
Why is it Important for your Remote Team to Have Fun on Slack?
Remote work doesn't have to be a lesser substitute for the physical office. There are plenty of ways to recreate that environment virtually and even ways to improve upon the traditional approach. With the right apps, it's easy to break up the monotony of work throughout the day and bring people together from a distance.
This creates a healthier and more productive workplace for remote teams, which offers boosts to several critical elements of a conducive work environment:
Employee Engagement
Introducing games into your working environment punctuates the day with moments that happily break up the raw effort of work. Regardless of how much someone loves their job, there will always be tedious, laborious, complex, or otherwise draining tasks. Taking time to stimulate the playful side helps you stay engaged with your work and creates a kind of stamina that's important for getting through these moments.
While it's an opportunity to reconnect with your work, it's also a chance to connect with the people in the larger organization.
Team Culture
Since fun at work usually manifests as a social event, this creates a collaborative environment between people who may not be working together directly. For those who already are, it's a chance to strengthen bonds and team up on things that aren't work-related and have less pressure attached to them.
Competitions, shoutouts, quizzes, and other enjoyable little moments at work can be a great way to promote team culture and spread the positive energy the company wants to instill in its teams.
Productivity
Engagement and team culture lead to more well-rounded individuals who work better and are more comfortable doing what they do. This translates to a boost in the quality of the work completed.
But achieving this in the new remote environment is a new skill. Slack is commonly used to consolidate all communications and task management across remote teams, but it's also a great place to stimulate culture and have fun.
Top Slack Apps for Fun
We've got a handful of cool apps you can add to slack for this purpose. Between them, you can accomplish everything you need in terms of the above perks and start seeing the benefits immediately. So let's take a look.
CultureBot aims to change the associations you have with Slack notifications. By providing positive inputs in many different ways, you'll be more excited to respond to alerts and see the next well-being tip or fun water cooler topic.
CultureBot's features include birthday and anniversary celebrations, handy health tips, and peer rewards programs, in which members can be awarded points that they can redeem for prizes. In addition, the whole bot promotes engagement between healthy teams and helps individuals make meaningful connections while working remotely.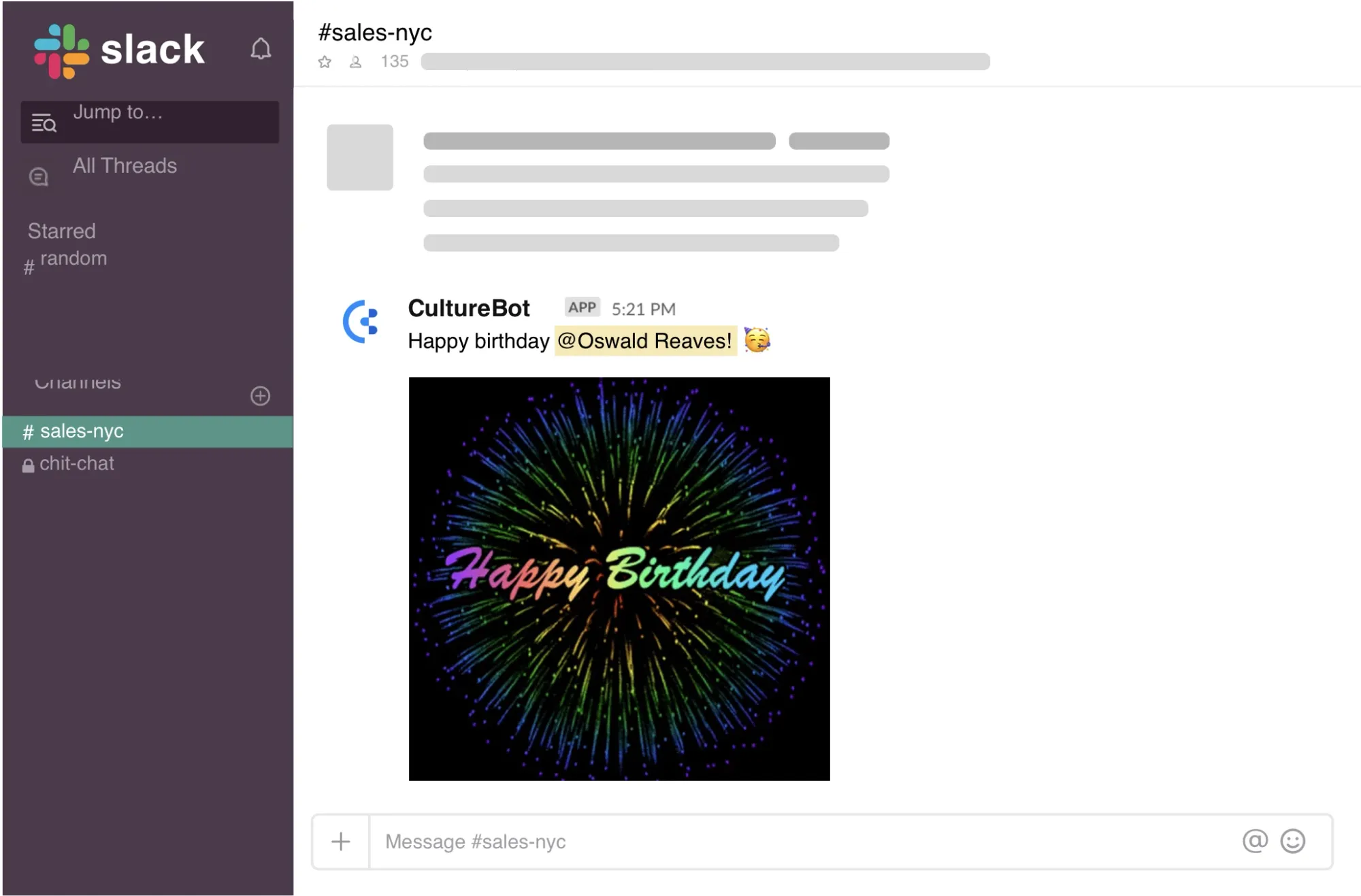 With CultureBot, you can even make an impression from the moment of hire. You can welcome new employees with personalized messages that point them in the right direction and help them find fun ways to start assimilating with the team as part of a virtual onboarding process.

This is one of the simplest and most popular bots on Slack. Quickly populate a game board automatically from within a channel or DM of your choice and play the classic game of TTT in your own time. One of the cool things about this game for remote teams is that there's no time limit, so players can play asynchronously from wherever they are whenever they get the chance.
This bot allows new employees to engage with current members or any of your team's individuals to take a moment away to reset. Games can be short or drawn out, and you can run multiple concurrent games on different channels.
For something a little more involved, consider this little bot for Slack. Chess is a challenging game that's easy enough to learn and near-impossible to master. It can be played across any culture or time zone, and it's great for longer games that sometimes take days.
As a game involving much more thought than TTT, it's not usually something that can be played fast but does lend itself very well to asynchronous playing. Engagement is a vital benefit of this Slack bot since employees can play against management in a battle of skill, leveling the playing field and creating a more equitable space and culture in the remote workspace.
This nifty little app lets you learn words in more than ten different languages. Each hour, a new word arrives and often creates fun talking points among your remote teams. If you've got employees from different backgrounds, it's an excellent way to compare languages and show an interest in their language.

You can use this one in conjunction with other elements of your fun slack app arsenal. For example, combine the word of the hour with some of your water cooler topics from CultureBot to get people engaged or provide points or rewards for phrases that your team members have predicted.
There are many ways to break up the day for your remote teams with fun Slack apps. Mix and match some of these choices and change your remote teams' day for the better!