Work Anniversary Celebration Messages (inside Slack)
Never forget the work anniversary of your teammates ever again. Make your team feel the love for the years of service they've put into your company.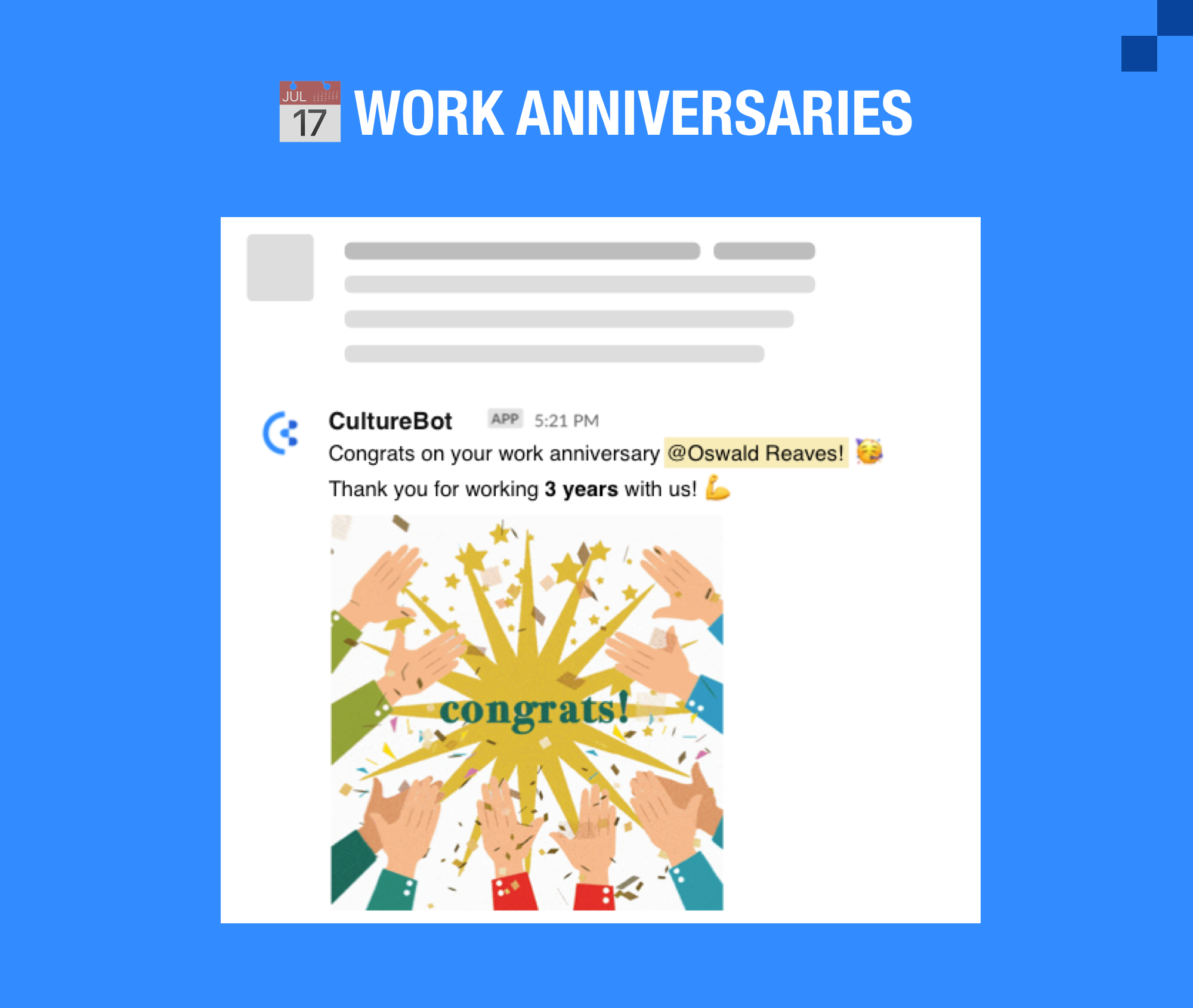 We are very excited to share with you a fun and easy way to never forget an employee's work anniversary ever again! With our work anniversary celebration feature, you can collect work anniversaries from everyone on your team and send out celebratory notifications automatically (on the day of someone's actual anniversary). The message will include a fun celebratory GIF as well as the number of years of service from the individual (to date).  
To use the work anniversary celebration messages feature you'll need to visit the "Work Anniversary" section of the home tab for CultureBot and setup each of the following in the image shown below:
Check the "Sends celebratory messages to your employees on their work anniversary!" checkbox
Select a channel to post to
Select the hour of day to send the celebratory messages (uses your local timezone)
Click the "Collect Anniversaries" button to send a message out to anyone on your team who hasn't submitted their work anniversary yet (Pro tip – you can choose to collect anniversaries in three ways – 1. sending a message to everyone 2. sending a message to select individuals, and lastly 3. adding the anniversaries yourself manually for individuals. All three options are available once you click on the "Collect Anniversaries" button).
Add an optional gift (this will be the same gift for everyone, and it will send a direct message to the teammate whose work anniversary it is describing the gift you've added)

We hope that this new addition to CultureBot makes building up your team's culture even easier and more fun than before.
See other recent improvements in our new product change log here as well as below:
You can now send health tips and water cooler messages to multiple channels at the same time.
All message types can now be sent on the half hour
Birthday messages now include an optional gift to send to members of your team on their special day.
😁 Stay happy & healthy,
~ Oswald