Slack Survey Apps: How To Do a Survey in Slack
In the age of remote work and digital communication, Slack has become a popular platform for teams to collaborate and stay connected. But Slack isn't just for messaging and file sharing; it can also be a valuable tool for conducting surveys.
Surveys in Slack are a convenient way to gather feedback, opinions, and insights from team members or group members. In this article, we'll walk you through setting up and conducting a survey in Slack.
In this article, we're going to guide you through the process of creating forms in Slack. We'll cover everything from the basics to a few advanced techniques.
Table of Contents
Step 1: Accessing the Slack App Directory
Step 2: Choosing a Survey Builder App
Step 3: Creating a New Survey
Step 4: Creating a Campaign
Step 5: View Results
Final Thoughts
Step 1: Accessing the Slack App Directory
To access the Slack App Directory, navigate to your workspace name in the top left corner of your Slack screen. Click on it, and a drop-down menu will appear. Select Apps & Integrations from this menu.
This takes you straight to the Slack App Directory. Here, you'll find many apps to support your Slack usage. You can search for specific apps in the search bar or browse through various categories to find exactly what you want.
Step 2: Choosing a Survey Builder App
The next move is to select a survey builder app. But not just any app, one that suits your unique needs. For this guide, we'll use CultureBot.
CultureBot is one such app that stands out in the crowd. It's a powerful tool that lets you craft fully customizable surveys. It integrates seamlessly with Slack, ensuring all your data stays inside your workspace.
With CultureBot, you can whip up a survey with multiple-choice questions, text boxes, dropdowns, you name it. You could go from concept to live survey in a matter of minutes. Plus, it's flexible. You can create one-off surveys or even recurring campaigns.
Installing CultureBot
To install CultureBot, you need to follow these steps:
Click on the CultureBot app in the directory (or click the button below)
Select Add to Slack. It will redirect you to a new page.
Choose a workspace where you'd like to add CultureBot.
Click Allow to give CultureBot the necessary permissions.
Voila! You've successfully installed CultureBot in your Slack workspace.

Step 3: Creating a New Survey
When you're ready to start creating your survey, navigate to the CultureBot Slack homepage. You'll find the "employee surveys & questionnaires" section when you scroll down. Your first step is as simple as clicking the "View/Add Forms & Campaigns" button. This action directs you to a web portal specifically designed to assist you in assembling your survey campaign that will be sent inside Slack.
Creating a survey with CultureBot is a breeze. You'll see a "create new form" button front and center. Click it, and a modal window will pop up on your screen. Inside this window, you're presented with several templates to choose from. You've got options like team health, eNPS, employee intro, and more. Start from one of these templates, or go wild and customize your unique survey.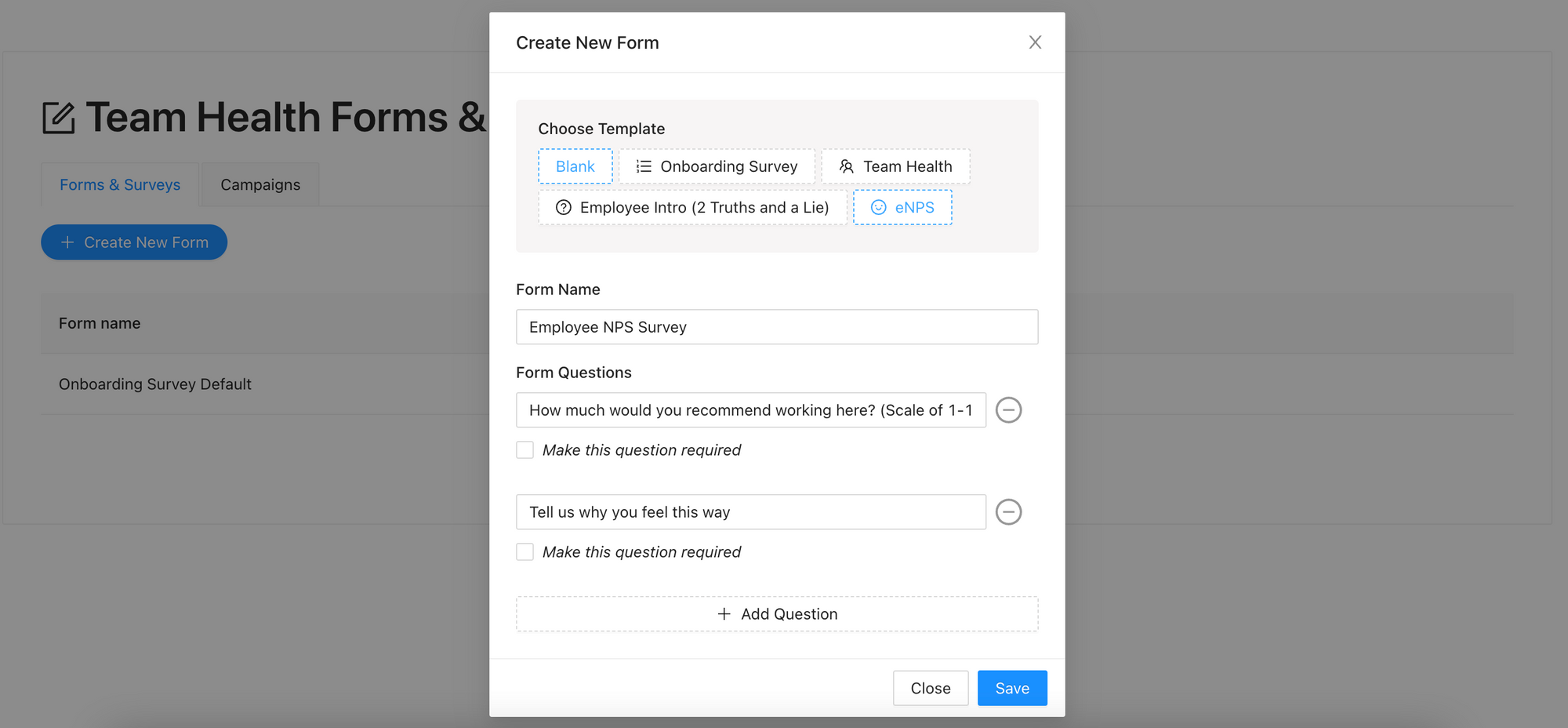 Step 4: Creating a Campaign
Creating a campaign is your next move with your survey ready to go. So, hit that "create new campaign" button. You'll see a popup loaded with options for your survey campaign. Here are some of the choices you'll need to make:
Is your survey a one-time thing, or will it repeat?
Who's your target audience? Is it everyone on Slack or just a select few?
Do you want your results to be public or private?
Should reminders be sent out to those who have not responded after a certain number of days?
When you've made up your mind on these, save your campaign. It will then launch at the date and time you've specified.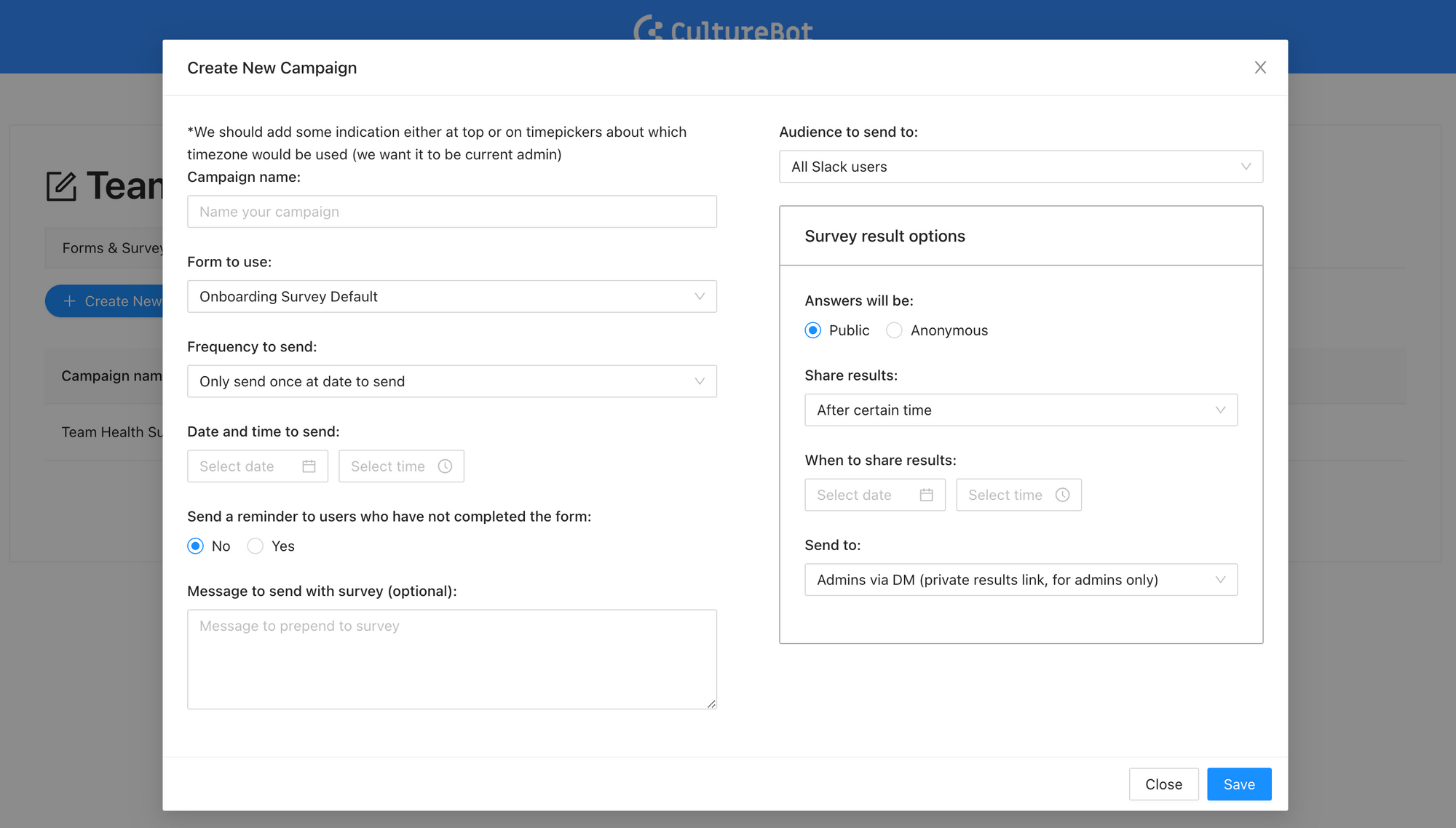 Step 5: View Results
Once your survey campaign comes to an end, Slack notifies you. It's time to dive into your results. The results page is designed to give you a comprehensive understanding of your survey outcome.
You can see the overall response rate on a per-question basis. You can also grasp the response rate for the entire survey. And, of course, you can access each individual's response to every question.
CultureBot even allows for an in-depth analysis. You can download all these responses as a CSV file. This feature makes it easy to integrate your survey data into other tools for further analysis.
While the survey is active, you don't have to wait for it to end to start reviewing responses. The campaign web portal provides a live view of your survey results.
In case the response rate is lower than expected, don't worry. You can manually send out additional reminders straight from the results page.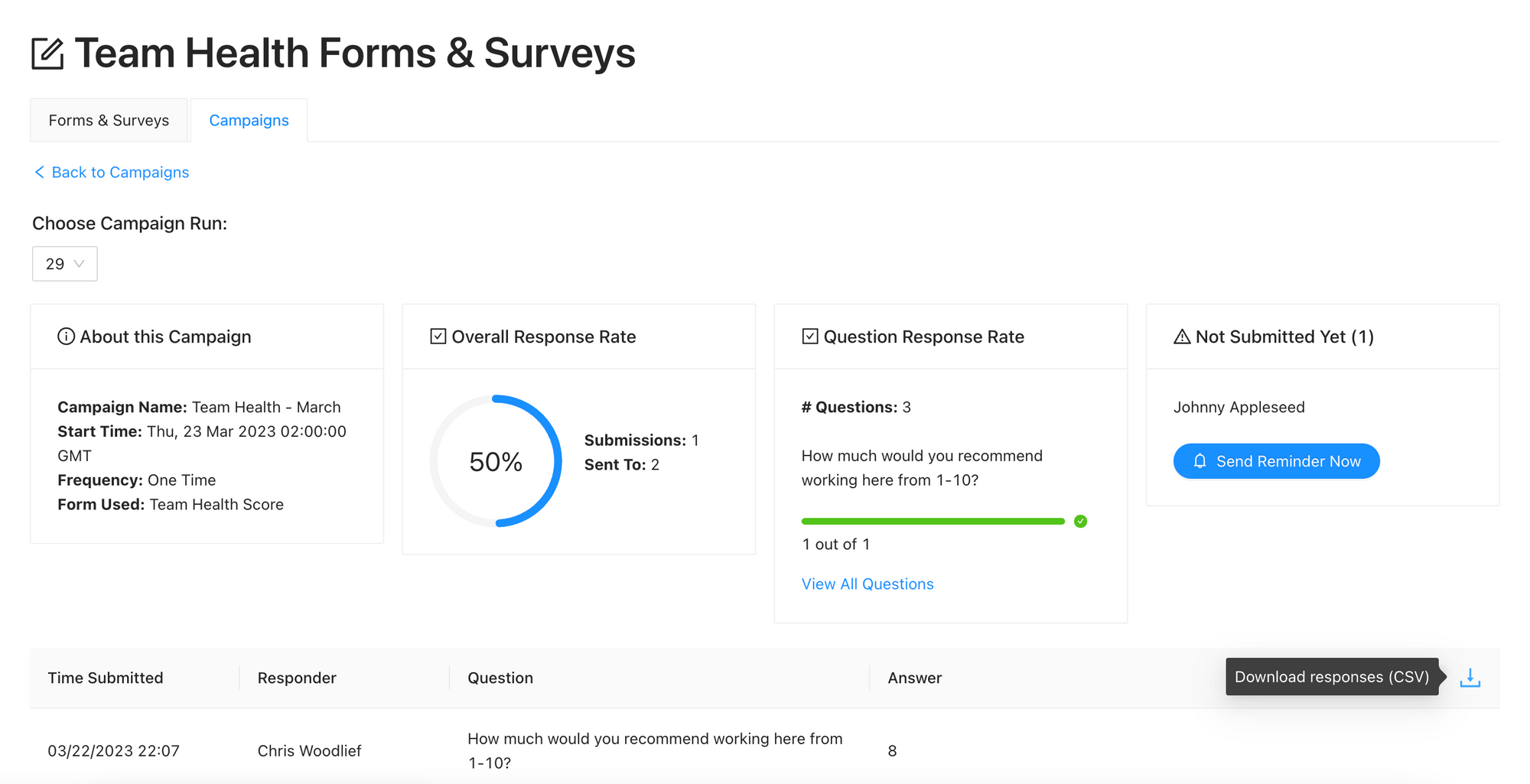 Final Thoughts
By leveraging the capabilities of Slack surveys, you've not only streamlined your work processes but also ensured data security. Whether gathering feedback, conducting surveys, or tracking tasks, it's all doable without needing multiple apps. You can customize forms and campaigns to your heart's content, making them perfect for your team's needs.
You can send additional reminders if the response rate is lower than you'd like. Ultimately, it's all about making your workspace more organized and efficient. So start creating surveys in Slack and drive your team to success.