Cultivating a Thriving Remote Workplace
Learn how to build a more effective async/remote culture with people strategist, author and speaker - Tina Marie Wohlfield. Hosted by CultureBot and HRChief.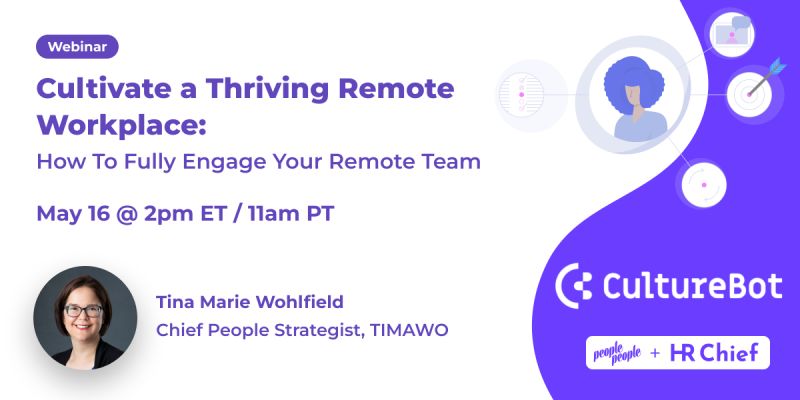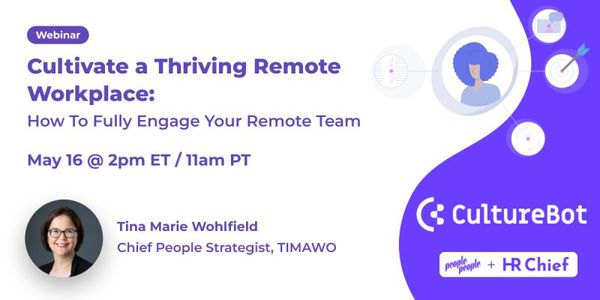 In this session, Tina-Marie Wohlfield SPHR, SHRM-SCP (author, TEDx speaker, and founder of HRUnite!) shares how to fully engage your remote team! You'll learn how to:
💥 Break the stigma of remote work
💥 Adapt policies to fuel inclusion, creativity, and productivity
💥 Connect Talent, Training, and Tools for a thriving remote workforce
---
This webinar was done in partnership with HR Chief - a community dedicated to improving the Human Resources/People Operations space. We strive to makework engaging, equitable, and impactful.
About CultureBot:
CultureBot is an all-in-one app for Slack to help build connected and engaged remote teams. Use it to celebrate your team's special milestones like birthdays and work anniversaries, recognize each other for jobs well done, and more.